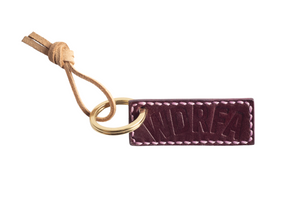 WDRFA Keychain - Eggplant

Product Details:
From the Wickett & Craig Tannery of Curwensville, PA, USA (est. 1867).

These keychains are made of English Bridle leather that is drum dyed in a range of finishes, then hot stuffed with waxes making this leather smooth and flexible with a waxy texture.

Stitched with 

Vinymo MBT a unique, bonded, non-lubricated tightly wound thread.

Stamped with WDRFA Arched Logo in center

Size: 2.5" x 1"